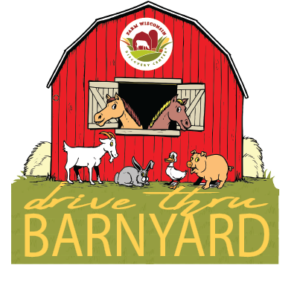 MANITOWOC, WI—Farm Wisconsin Discovery Center will open its parking lots for a special Mother's Day Drive-Thru Barnyard experience 10 a.m. to 3 p.m. Sunday, May 10. The event will feature traditional farm animals like calves, goats, horses, pigs and chickens, as well as machinery used on the farm.
Guests are asked to enter Farm Wisconsin from the south on Gass Lake Road and stay in their vehicles while on the grounds. The building will remain closed.
Visitors may purchase tickets online for $20 per carload in advance of the event at FarmWisconsin.org/shop. Cash payments of $25 per carload using exact change will also be accepted in person. Farm Wisconsin members will be admitted free of charge. Interested in Membership?
"We want families to have a safe way to connect with agriculture from the convenience of their vehicles," says Patty Lehn, Farm Wisconsin Executive Director. "Like other experiences at Farm Wisconsin, we hope drive-thru guests leave with a little more understanding and appreciation for Wisconsin agriculture."
Visitors will also be able to purchase individual servings of Cedar Crest ice cream for $3 during the drive-thru event—available through the online cart or with exact change the day of.
Local farms and farm organizations are providing all animals and equipment featured during the drive-thru event.
"This is another example of what makes Wisconsin agriculture so special," adds Lehn. "We are so grateful for this support and optimistic that we'll be able to offer similar programming in the coming weeks."
The Farm Wisconsin Discovery Center is a state-of-the-art, interactive agricultural education center located in Manitowoc County. Farm Wisconsin connects visitors' curiosity to the wonder of Wisconsin farming and provides guests with a better understanding of their food sources and their importance. The center features 10,000 square feet of hands-on learning opportunities, a birthing barn where visitors may watch calves being born daily, and an opportunity to tour a local farm to learn about Wisconsin's rich farm history. The center was named to Time for Kids' World's 50 Coolest Places of 2019.
Learn more at www.Farmwisconsin.org
Contact:
Jessica Mayer
Marketing Manager
(920) 726-6004 | Jessica@farmwisconsin.org
###