Help us tell the farm-to-table story
... so consumers understand the families and facts behind their food, fiber, and fuel
Your donations to Farm Wisconsin Discovery Center fund school field trips, special activities, updated technology, and more so that we can convey the stories today's Wisconsin farm families would tell consumers. As a result of Farm Wisconsin's work, visitors are able to better understand and support all types of Wisconsin agriculture.
***We have a unique opportunity from generous donors to MATCH contributions made by December 31, 2022! Click the "Make a Donation" button below, or mail your donation to Farm Wisconsin Discovery Center, 7001 Gass Lake Road, Manitowoc, WI 54220
Corporate Giving
Organizations whose philanthropic goals align with Farm Wisconsin's mission are encouraged to take part in our new annual sponsorship campaign.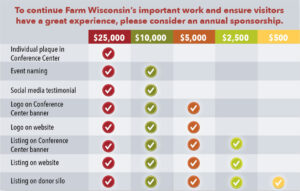 MAKE A DONATION
Make a donation to help support Wisconsin Agriculture.