Land O'Lakes Birthing Barn
Observe + Ask Questions
Farm Wisconsin Birthing Barn
The Land O'Lakes Birthing Barn offers guests a unique opportunity to connect up-close-and-personal with a dairy cow. Each cow that visits the birthing barn is an expectant mother, ready to give birth. While the timing of a new calf's arrival cannot be scheduled, it is our goal is to showcase live calf births every day we are open.
In the birthing barn, an on-site staff member will walk visitors through the care both mom and baby receive pre-, during, and post-labor, answering any questions along the way. Guests will leave with knowledge about what a cow eats, what makes her comfortable, and how dairy products begin their journey on one of Wisconsin's 7,000 family-owned dairy farms.
Since opening in 2018, our facility has seen over 500 calves born in the birthing barn.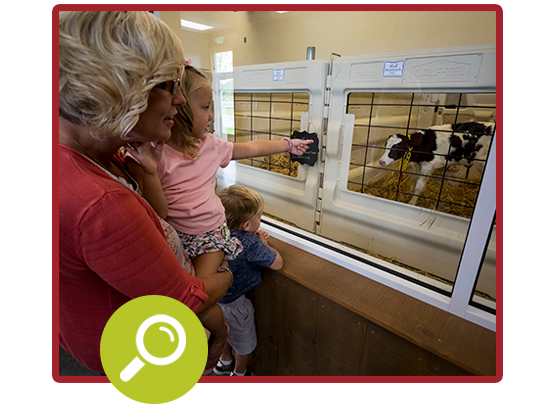 Become a Member!
The most cost saving way to experience Farm Wisconsin.
Membership in Farm Wisconsin Discovery Center makes you part of something important. When you believe that Wisconsin farming can be sustainable and that we can educate the public about where food comes from, then you are ready for membership in Farm Wisconsin Discovery Center. Join us to support promotion of Wisconsin sustainable food production and you'll always have a place to go.