Land O'Lakes Birthing Barn
Observe + Ask Questions
Farm Wisconsin Birthing Barn
The Land O'Lakes Birthing Barn offers guests a unique opportunity to connect up-close-and-personal with a dairy cow. Each cow that visits the birthing barn is an expectant mother, ready to give birth. While the timing of a new calf's arrival cannot be scheduled, it is our goal is to showcase live calf births every day we are open.
In the birthing barn, an on-site staff member will walk visitors through the care both mom and baby receive pre-, during, and post-labor, answering any questions along the way. Guests will leave with knowledge about what a cow eats, what makes her comfortable, and how dairy products begin their journey on one of Wisconsin's 6,500 family-owned dairy farms.
Since opening in 2018, our facility has seen over 550 calves born in the birthing barn.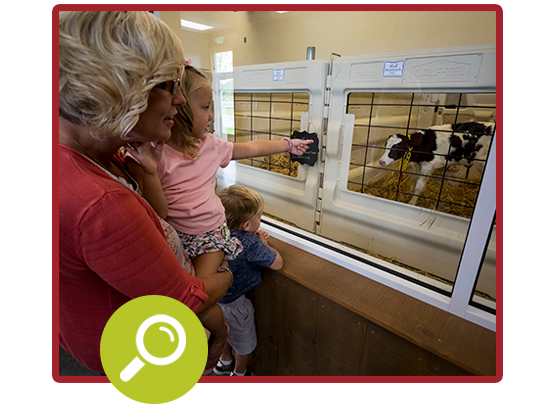 The most cost-efficient way to enjoy Farm Wisconsin is by being a member! By being a member of Farm Wisconsin, you'll enjoy the Farm Wisconsin experience to the fullest while supporting your local non-profit organization. We hold our members close, as they are firm believers of our mission to educate consumers about Wisconsin agriculture and their food sources.