Land O'Lakes Birthing Barn
Observe + Ask Questions
Farm Wisconsin Birthing Barn!
The Land O'Lakes Birthing Barn gives visitors the opportunity to see a cow giving birth in a clean and quiet environment. Since opening in 2018, we have had over 500 calves born in the Birthing Barn!
We ask all our viewers to remain quiet as our cows are in labor, delivery, and after birth. Most cows give birth with no assistance, but our Birthing Barn staff is always available to assist if necessary. The Birthing Barn staff will inform guests what is happening at each stage of the birth and answer any questions you may have.
Our cows and calves go back to the Grotegut Dairy Farm every night, enjoying the ride back and forth. We hope your visit is on a day when we have a cow ready to give birth. It is an unforgettable, educational experience that the whole family will enjoy!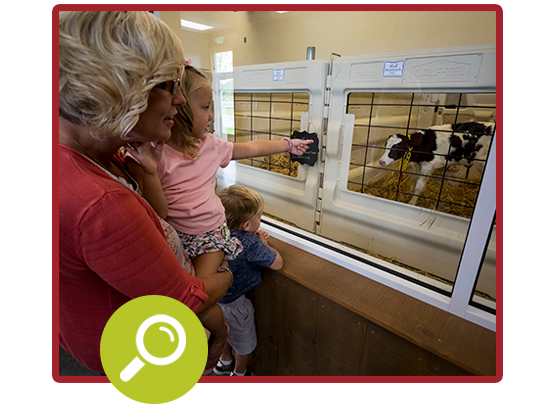 Become a Member!
The most cost saving way to experience Farm Wisconsin.
Membership in Farm Wisconsin Discovery Center makes you part of something important. When you believe that Wisconsin farming can be sustainable and that we can educate the public about where food comes from, then you are ready for membership in Farm Wisconsin Discovery Center. Join us to support promotion of Wisconsin sustainable food production and you'll always have a place to go.