Cafe
Farm to Table + Nourish
Farm Wisconsin Discovery Center Wisconsin Cafe!
Wisconsin Café is sponsored by Sargento. Experience Farm-to-Table tastes in our breakfast sandwiches, burgers, Paninis, and variety salads. Try a bison burger with cheese and smoked bacon after a long day on the farm. A selection of Wisconsin craft beers or specialty sodas make for a cool drink. You'll find simple fare for all ages and appetites.
Kids will delight in all their favorites like grilled cheese, chicken tenders, and beef burgers made with healthy Wisconsin products. Relate the foods kids choose to the exhibits and experience at Farm Wisconsin Discovery Center. Even the smallest child will remember that potato chips come from Wisconsin potatoes.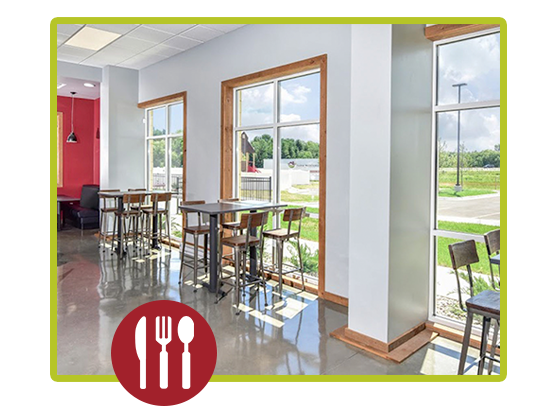 Become a Member!
The most cost saving way to experience Farm Wisconsin.
Membership in Farm Wisconsin Discovery Center makes you part of something important. When you believe that Wisconsin farming can be sustainable and that we can educate the public about where food comes from, then you are ready for membership in Farm Wisconsin Discovery Center. Join us to support promotion of Wisconsin sustainable food production and you'll always have a place to go.