Fa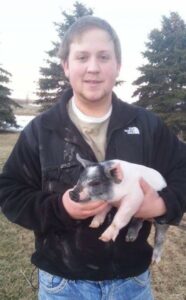 rmers Name: Keel Showpigs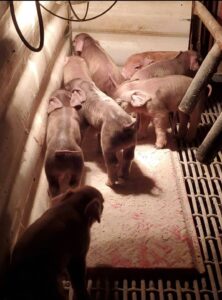 Featured Animal: Pigs
Facts about the Farm: The farm has been in the family since the early 1900's. We are the 5th generation continuing the hog business. My great-great grandfather, Eli Keel, bought it as a homestead for his oldest son William. Eli was a significant figure in his local community. He was a successful businessman and auctioneer in the late 1800's and had an affection for raising Poland Chinas pigs for breeding and meat purposes. This passion passed through the generations as we continued the business for over a century. Eventually, my grandfather Eddie and father Steve took an interest in breeding purebred Duroc hogs. They showed hogs and went to type conferences throughout the years. They enjoyed the breed for their hardiness and fine meat quality. As times changed, my father raised hogs for market, while also working a job off the farm. This continued until the price of hogs took a negative hit in the 1990's and we decided to reduce our number of hogs. With the sows left, my father started to raise club pigs or show pigs for exhibition at local fairs. Within the family, my sisters and I exhibited animals at state and county fairs with some success. In 2004, the show pig business went full circle. Kristin, my older sister, had been enrolled at Iowa State University and was a member of the livestock evaluation team. She applied her knowledge from school to our home operation and helped our sister Rebecca earn the best victory the family has have ever had. In 2004, our family won the Grand Champion Barrow at Wisconsin State Fair Junior Show, 3rd Overall and Champion Duroc Barrow and the Grand Champion Overall Breeding Gilt. Since that tremendous year we have had countless champions at state, county and local shows. The family continues to carry the same passion for the business.
Facts about Pigs:
*Pigs do not have sweat glands, which is the primary reason you can find them in a mud hole trying to cool off.
*Sows on average have litters with 8-14 piglets. It isn't unheard of to have litters of 20.
*Many fairs have big boar contests where they feed a boar to win the coveted "biggest boar contest." These hogs often reach 1300lbs.
*The gestation period for a pig is 114 days or simply remembered as the "3's" threes. 3 months 3 weeks and 3 days.
*If timed right, sows can have 3 litters a year.