Manitowoc, Wisconsin is a unique destination situated on Lake Michigan, full of rich history and beautiful landscapes.
Manitowoc and the surrounding area is well known for many things. Most notably its work in the boating industry, making all things from ships to submarines, and its rich and expansive agriculture community, being a state leader in dairy production. The area also offers some delicious eats.
Farm Wisconsin Discovery Center
Agriculture is very prevalent in Manitowoc and the surrounding area. Manitowoc County often sits in the top three dairy producing counties in the state. To learn more about the agriculture surrounding Manitowoc and throughout the state, an ideal stop will be Farm Wisconsin Discovery Center. Farm Wisconsin is an agriculture education destination for people of all ages. Guests can explore 10,000 square-feet of interactive exhibits, have the opportunity to see the birth of a calf in the Land O'Lakes birthing barn, take a virtual tour through a local dairy farm, and more. Farm Wisconsin allows guests to explore their curiosity and learn about the agriculture that impacts their lives every day.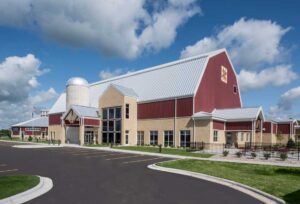 Wisconsin Café
Farm Wisconsin is also home to one of the best breakfast and lunch spots in town, the Wisconsin Café. Serving farm-to-table dishes, the Wisconsin Café has a wide variety of items on their menu, focusing on the use of Wisconsin based products. Popular menu items include the Wine Country French Toast, using Door County cherries, and a Barnyard Burger, using meat from a local butcher. Seasonal, rotating menus allow diners to experience something new each visit.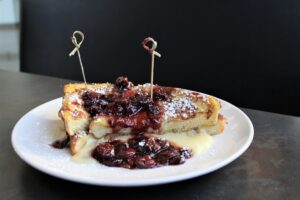 A short drive from Farm Wisconsin Discovery Center and the Wisconsin Café is Manitowoc's downtown. There are many sights to see and restaurants to try in this area as well. In this area you will be able to take a closer look at why Manitowoc has been given the name of Wisconsin's Maritime Capital.
Wisconsin Maritime Museum
To delve deeper into Manitowoc's long running maritime history, a stop at the Maritime Museum is a must. The Maritime Museum takes you through the history of shipbuilding dating back to the 1840s and a gallery of Wisconsin-built boats. Visitors can also purchase a ticket to tour a restored World War II submarine, the U.S.S. Cobia. Situated near the mouth of Lake Michigan and the Manitowoc River, this destination will also bring the opportunity to see some running boats. One boat you may see is the Lake Michigan ferry, the S.S. Badger, which takes guests between Manitowoc and Ludington, Michigan.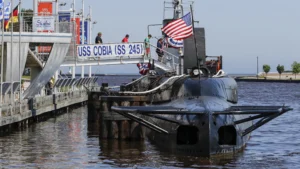 Courthouse Pub
While in downtown Manitowoc you will find several places to enjoy a delicious meal. Courthouse Pub is an excellent choice for people of all tastes. This history-rich restaurant serves up lunch, dinner, and drinks five days a week. This restaurant was built in 1885 and has gone through several iterations, including staying open as a café during the Prohibition Era, after being open as a brewery for nearly 35 years. Courthouse Pub is well known for being the only microbrewery in Manitowoc.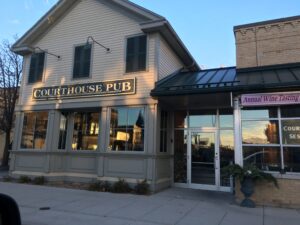 LondonDairy Alpacas
To experience a unique facet Wisconsin agriculture, a short drive from Manitowoc is the town of Two Rivers. Two Rivers is home to LondonDairy Alpacas. LondonDairy Alpacas is a fully operational alpaca ranch that offers guided tours. Through these guests can interact with and feed the alpacas and learn about the value and use of their fiber. Tours can be made in advance by reservation only. LondonDairy Alpacas also hosts many special events that allow visitors an up close and personal experience with this unique animal.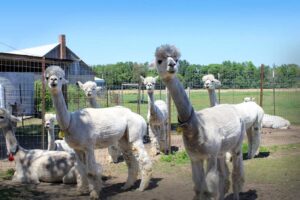 Conveniently located off of I-43 and on the Lake Michigan shoreline, Manitowoc, Wisconsin is the perfect destination for a weekend trip. Not far from Green Bay or Milwaukee, Manitowoc offers a one of a kind experience for people of all ages.