Have you ever wondered what your day might look like during a field trip visit to Farm Wisconsin Discovery Center? Follow along with this 'Day in the Life' for a sense of what you and your students would experience when exploring the wonders of Wisconsin agriculture.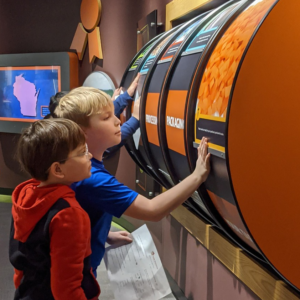 Welcome: When you arrive at Farm Wisconsin Discovery Center for your field trip your first stop will be in our exhibit theatre where you will receive a warm welcome to Farm Wisconsin Discovery Center. This time will be spent learning some basics about Wisconsin agriculture and your schedule for the day.
Exhibits: Students will spend time exploring Farm Wisconsin's 10,000 square feet of self-guided, interactive exhibits. The exhibits are where students will gain information about all types of Wisconsin agriculture. From Wisconsin specialties, like dairy and cranberries, to new technologies, and more; students and teachers alike will be able to make the connection between their own lives and the food fuel and fiber produced in our state. Amanda Paul, Christian Home Educators, said this when asked what her favorite part of her field trip was, "The well made displays in the exhibits. Very good for multiple age ranges." Highlights of the exhibits include the opportunity to harvest corn with a combine simulator and learn about water flow and water runoff using kinetic sand.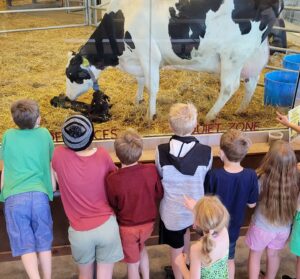 Birthing Barn: In the birthing barn, students will be able to get up close and personal with Wisconsin's most popular agriculture, dairy! An attendant in the birthing barn will offer an in-depth look into the animals through a conversation covering all things from diet and exercise to the smallest on the farm; calves! The birthing barn offers the unique experience to the see the miracle of a calf birth on site.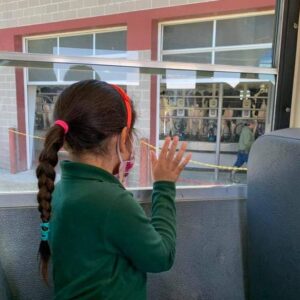 Farm Tour: When arriving on a bus, your group will be offered a tour to a local dairy farm. This tour provides a look in to the modern workings of a large dairy farm. A drive straight through a free stall barn offers students an up close look and how dairy cows live. Students will learn how milk goes from the farm to their refrigerators!
Lunch: Groups can enjoy lunch on site; bringing their own from home or offering boxed lunches made in-house. Weather permitting, groups can sit outside on the patio and enjoy the Wisconsin weather.
Barnyard Adventure & Free Time: 'Barnyard Adventure' time allows students to burn off some energy on a farm-themed playground. This time can also be used as free time to shop the Wisconsin products in our Farm House Store or for students to purchase their own ice cream.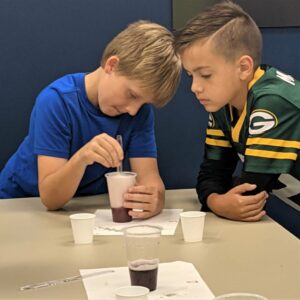 STEM Labs: STEM labs are an exciting addition to field trips for students of all ages! STEM labs are designed at beginner and advanced levels. Beginner offerings include Egg-ceptional Poultry, Strawberry DNA Extraction, Color Taste Test, and in the fall, Craving Cranberries. Advanced STEM labs include Caring for Calves, Feeding the Modern Dairy Cow, and Dos & Don'ts of Labor and Delivery. Sheboygan High School teacher, David Miller, said this about the Caring for Calves lab, "Getting the kids up close & personal with a live calf was an unforgettable experience and made mine and many of my students days!" STEM labs offer an in-depth look, where students can get hands on to learn about agriculture.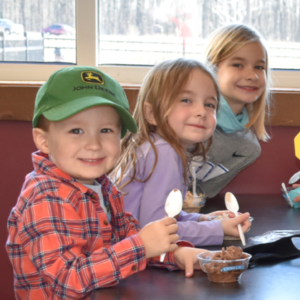 Ice Cream: A tasty treat is the perfect way to celebrate a field trip to Farm Wisconsin. With ice cream made right here in Manitowoc, students will be able to make the connection between farming and food after learning about Wisconsin dairy and touring though a dairy farm.
A field trip to Farm Wisconsin Discovery Center offers students and teachers alike an educational opportunity while having fun! Field trips can be scheduled year round.