Hello, Wisconsin Agriculture Enthusiasts!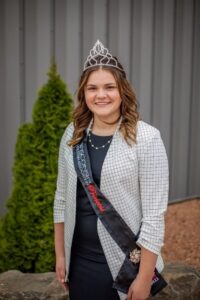 My name is Maddy Hensel. I am proud to be the 2022 Wisconsin Holstein Association Princess. I reside in Pittsville, WI in Wood County, where my sisters and I raise our dairy show cattle. I am excited to help the Wisconsin Holstein Association promote the Holstein breed and the dairy industry over the next year.
What month is it? June Dairy Month! For over 80 years, June has been celebrated as the official "Dairy Month" nationwide. According to the American Farm Bureau Federation (AFFB), June Dairy Month began as a way to distribute extra milk during the summer months. Since 1939, it has been celebrated to promote delicious dairy products and all the hard work that goes into producing them!
As the Wisconsin Holstein Association Princess, I have the honor of promoting the most popular breed, with over 90% of all dairy cattle being Holsteins! Our beloved Holsteins are the feminine, black and white breed that produce the greatest volume of milk. We are quite lucky to live in Wisconsin, America's Dairyland. We have healthy and fresh dairy products right at the tips of our fingers! This month, I challenge you to indulge in more of your favorite dairy product. My favorite dairy product is ice cream, preferably Blue Moon flavored! America's favorite ice cream flavor is vanilla, closely followed by chocolate (AFFB). What is your favorite kind?
Growing up, I always enjoyed going to Dairy Breakfasts, Farm Tours, and other fun promotion events. There are many opportunities available, especially during June, to support agriculture. Be sure to celebrate by supporting your local farmers! If you are interested in attending an event in your area, check out the dairy promotion event list at wisconsindairy.org. I look forward to continuing to promote the dairy industry!