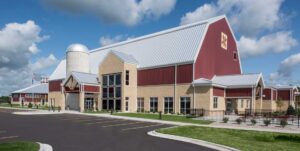 The Farm Wisconsin Discovery Center will celebrate three years of operation with activities, animals, equipment, special guests, and food samples Thursday, July 29 – Saturday, July 31. Guests are invited to visit the discovery center all three days to take part in the festivities.
Baby animals will be visiting each day, including several goat kids and a lamb. Riesterer and Schnell will also be on site, showcasing John Deere agriculture equipment up close and personal. Additionally, the weekend will provide an opportunity for guests to check on the progress of the sunflower field planted directly behind the discovery center.
Throughout the anniversary celebration, visitors are encouraged to taste their way through Wisconsin agriculture. Several sneak-peek food options for the re-opening of the Wisconsin Café will be prepared for the weekend.
Thursday, July 29
Thursday, July 29 is full of fun for the whole family. Dive into the world of Wisconsin potatoes when the Spudmobile visits from 10 a.m. – 2 p.m. Next, visit with Dr. Jay Bailey, DVM, for an 'Ask the Veterinarian' session at 11 a.m. 74th Alice in Dairyland, Julia Nunes, will also be in attendance showcasing Wisconsin's robust cherry industry. Wrap up the day with a second dive into the veterinary world at 1 p.m. with Dr. Katie Osborne, DVM.
Friday, July 30
The special events continue Friday, July 30 with more animal visitors, including chickens. Throughout the day, guests will be able to sample food products in the Farm House Store and visit with additional special guests.
Saturday, July 31
The weekend wraps up on Saturday, July 31 with a visit from Wisconsin Fairest of the Fair, Cayley Vande Berg, from 1 – 2:30 p.m. A 'Taste and Explore Adventure' is also planned for Saturday. Interested participants are invited to spend the day tasting and exploring Wisconsin agriculture on this one-of-a-kind adventure at Farm Wisconsin and LondonDairy Alpacas. Separate registration is required for the Taste and Explore event.
"We are so grateful to celebrate this milestone," shares Patty Lehn, Farm Wisconsin executive director. "The weekend activities provide a great excuse to visit us for the first time or return for the hundredth time."
Farm Wisconsin began solely as a vision of local agriculture community members nearly ten years ago. These early believers spent countless hours of research, exploration, fundraising and planning to turn their vision into a reality. Today, Farm Wisconsin is one of the country's premier agriculture education destinations and answers the question, "Where does my food come from?"
Since its opening, the discovery center has welcomed thousands of visitors from all around the world, encouraging each guest to explore the wonders of Wisconsin agriculture. Whether a guest is 2 or 92, Farm Wisconsin offer opportunities for all ages to learn about the diversity of Wisconsin's agriculture community.