Support Our Mission and Make a Contribution!
As a non-profit organization, we deeply appreciate all the volunteers, contributors, and supporters of Farm Wisconsin Discovery Center. If you believe in our mission of sharing the wonders of Wisconsin agriculture, encouraging consumers to explore the economic value of agriculture, and better understand their food sources, then we strongly encourage you to make a contribution to our cause.
Your support will provide the reinforcement and inspiration that sustains Farm Wisconsin's programming and will increase superior exhibit quality, facility maintenance, and create exceptional experiences for our visitors. Learn more about how you can get involved with Farm Wisconsin and support our mission.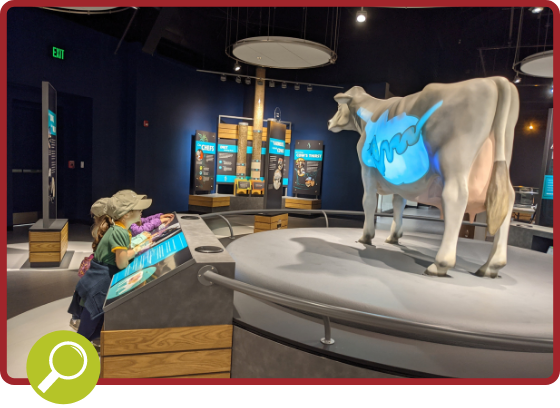 Explore
Farm Wisconsin offers over 10,000 sq. ft. of educational exhibits, plus Land O'Lakes Birthing Barn.
LEARN MORE »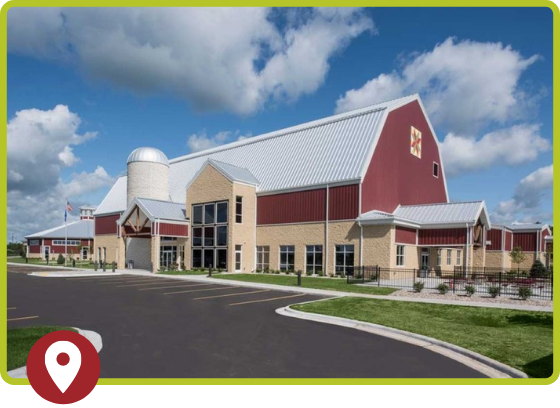 Admission
Bring the whole family and start learning about agriculture in an interactive way today! Tickets are available at the door.
LEARN MORE »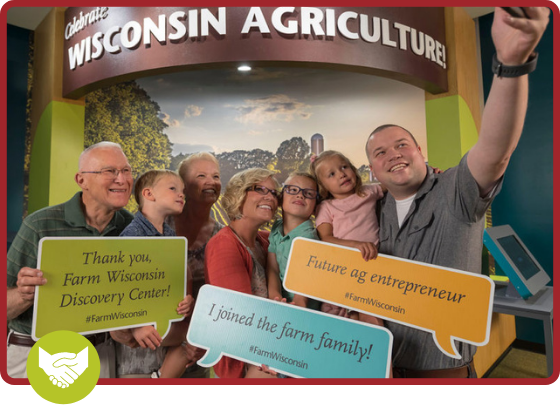 Support
Your willingness to volunteer, purchase a membership, or donate is what makes Farm Wisconsin Discovery Center so unique.
LEARN MORE »
Number of People One U.S. Farm Feeds
Expected Global Population By 2050
Additional Food Necessary by 2050
The Farm Wisconsin Discovery Center
Dive into the wonders of agriculture at Farm Wisconsin Discovery Center and discover why we've been named among Time for Kids' 50 Coolest Places of 2019 and a Trip Advisor Top Choice. Spend a day as a family or group exploring interactive exhibits, seeing a local farm firsthand through a bus tour, or experiencing the miracle of birth in the birthing barn. Have a meal in the farm-to-table café or book your group outing in the conference center, and be sure to save room for ice cream and other treats in the Farm House Store.
Take the short drive from Milwaukee or Green Bay, Wisconsin to let your curiosity grow!
There's Always Something Exciting Happening Here!
Stay up to date by viewing our most recent blog posts, where we share our upcoming events and provide insight on everything related to Wisconsin agriculture.
During the month of May, Beef Month is celebrated across the country. It highlights farmers and ranchers, the beef cattle they provide, the future of the beef industry, and every aspect in between. Educating consumers about beef nutrition is also an important part of Beef Month. Eating beef provides essential nutrients, including protein, iron, […]