We know that organizing a field trip can be stressful, difficult, and at times confusing. To ease your planning, we developed this Field Trip Checklist to ensure a memorable field trip at Farm Wisconsin!
Booking Field Trip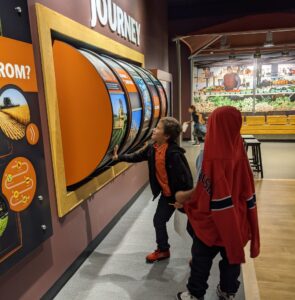 When choosing a field trip date, make sure it's two weeks ahead of your booking date.
Build your field trip experience
All field trips include self-guided exhibit experience, Land O'Lakes Birthing Barn insight from a staff member, a bus farm tour of Grotegut Dairy Farm, Barnyard Adventure free time, and educational videos.
In addition, you can include STEM labs for an additional cost. Price varies by STEM lab. Find descriptions of available STEM labs here.
If planning to have lunch during your field trip, you can reserve a lunchroom space for $10, which can be added when booking your field trip.
Submit Reservation Deposit
A $50 deposit is required upon booking to reserve your spot. Full payment is due when we receive a final headcount.
2 Weeks Before
Complete required school documentation
These are different for every school district but may include: field trip permission forms, transportation forms, media consent forms, etc.
Coordinate transportation with your district
To do the dairy farm bus tour, schools must provide their own transportation to and from the farm.
Secure chaperones for your field trip
One adult is required for every ten students. For every 15 students, you will receive one complimentary adult admission. Teachers receive free adult admission, but additional chaperones will be $10/each on your final payment.
1 Week Before
Final headcount and payment due
Payments can be made by check, cash, or credit card. Credit card purchases can be completed over the phone by calling our main line.
Review rules of conduct and other FAQs on our Field Trip Page.
Assign students to chaperones.
Day Of
Wear comfy shoes – no need for barn clothes!
The dairy farm tour happens without leaving the bus, so there is no need to wear old clothes or boots! Comfortable shoes are encouraged, as we will be moving around a lot throughout the field trip.
Bring a camera/phone to take pictures.
Bus parks by main entrance upon arrival
We ask that your group remains on the bus until greeted. After drop-off, buses may park in our east parking lot.
Have fun!
Farm Wisconsin is meant to be enjoyed by all ages, not just the students. We encourage teachers and chaperones to get in on the action and have some fun themselves!
After
Look for Farm Wisconsin's highlights of your field trip.
We post recaps of every field trip at Farm Wisconsin, so make sure to follow our social media pages to see our highlights of your trip!
Post your highlights
We also love seeing the field trip through your lens, so if you took great pictures, make sure to share them on your social media, and make sure to tag us!
Share your experiences on social media/review sites.
If you enjoyed your time at Farm Wisconsin, we would love to see you share your experiences on any of our review sites (Facebook, Google, TripAdvisor, or Yelp). Your experiences will broaden our online visibility and help us reach new audiences!
Count down the days until your next visit!
Ready to plan your field trip to Farm Wisconsin? Visit our Field Trip page, http://farmwisconsin.org/visit/field-trip/, to learn more and book your field trip today! Spring 2022 dates are booking fast, so you don't want to miss out on this unique opportunity!