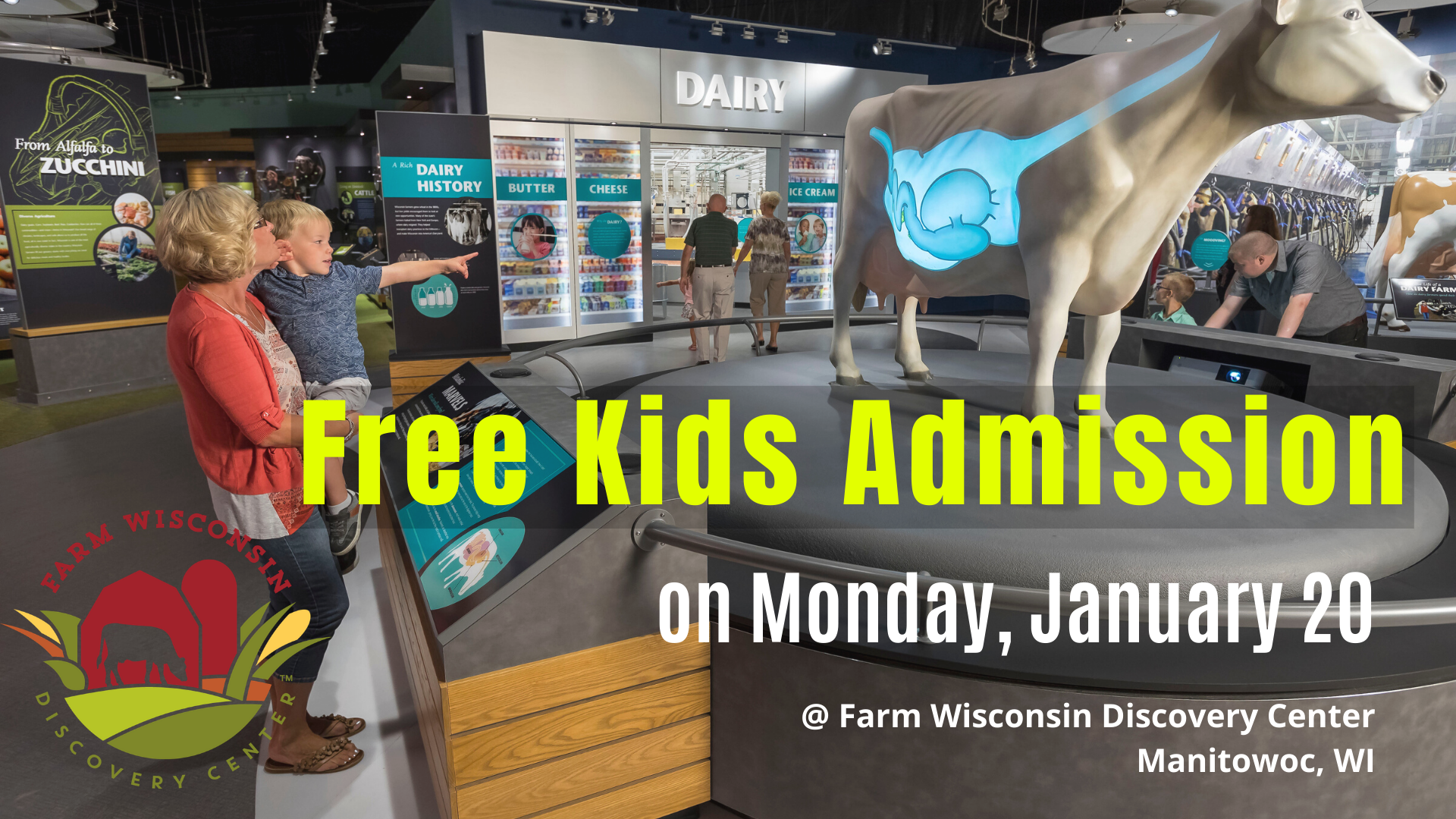 Farm Wisconsin Discovery Center offers several options for getting out of the house for fun activities this weekend—and offers admission incentives to do so. Packer backers sporting their team's gear at Farm Wisconsin, Saturday and Sunday, will get $1 off admission. Monday, kids 18 and younger without school for Martin Luther King, Jr. Day will receive free admission.
The discovery center, recently named one of Time for Kids' World's 50 Coolest Places, will also be celebrating agriculture-related days—like National Popcorn Day on Sunday, January 19. The center will offer free popcorn, gourmet popcorn samples (from Broadway Popcorn), popcorn activities, specials in the Wisconsin Café, and a popcorn-guessing contest.
In addition to offering free kids' admission on Monday, January 20, the center will mark National Cheese Lovers' Day with cheese samples, cheese-related activities and of course, cheesy menu items in the Wisconsin Café.
"Get used to us offering activities that celebrate Wisconsin agriculture in new ways in 2020," says Patty Lehn, Farm Wisconsin's executive director. "Our 'coolest places' designation motivates us to keep developing experiences around Wisconsin's diverse farms and agricultural products."
Farm Wisconsin also offers memberships with unlimited visits throughout the year. Membership costs range from $40 for an individual, $60 for a dual membership or $80 for families and grandparents. Furthermore, members receive a discounted price at yearly fundraising events.
Farm Wisconsin Discovery Center is open daily from 9:00 a.m. to 5:00 p.m., seven days per week. The Wisconsin Café located inside the center is open for breakfast and lunch 8:00 a.m. to 2:30 p.m. Access to the Wisconsin Café and the center's country store are free and independent of admission to the discovery center.
Farm Wisconsin Discovery Center:
The Farm Wisconsin Discovery Center is a state-of-the-art, interactive agricultural education center located in Manitowoc County. Farm Wisconsin connects visitors' curiosity to the wonder of Wisconsin farming and provides guests with a better understanding of their food sources and their importance. The center features 10,000 square feet of hands-on learning opportunities, a birthing barn where visitors may watch calves being born daily, and an opportunity to tour a local farm to learn about Wisconsin's rich farm history. The center was named to Time for Kids' World's 50 Coolest Places of 2019.
Learn more at www.Farmwisconsin.org
###