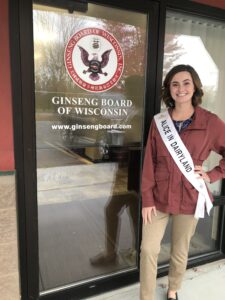 My name is Julia Nunes and I am currently serving Wisconsin as the 73rd Alice in Dairyland. I am looking forward to visiting the Farm Wisconsin Discovery Center on Saturday, February 13, 2021, to showcase one of Wisconsin's number one products ginseng! This event will also align with the Chinese New Year celebration.
Chinese New Year, also called Lunar New Year, is an annual 15-day festival celebrated in China and in many Chinese communities around the world. This event begins with the new moon. This year, Chinese New Year occurs on Friday, February 12, 2021, in many of the countries that celebrate it. Ginseng is a key ingredient used in traditional Chinese medicine and is a popular gift during the New Year celebrations. It is known as a "gift of good health" and can help support a healthy immune system.
In Wisconsin, much of our ginseng is grown in Marathon County, which has become known as the capital of the ginseng industry. Ginseng cultivation in Wisconsin began in the late 1800s by the Fromm brothers, but the root has been used in eastern cultures for its healing properties for over 5,000 years!
Wisconsin-grown ginseng, or Panax quinquefolius, contains very high levels of ginsenoside, the active ingredient in ginseng. When compared to ginseng grown outside of the United States, Wisconsin ginseng generally averages higher levels of ginsenoside and also offers the highly-desired bitter taste. Ginseng grown in Wisconsin can be recognized by a trademarked seal that ensures the product is of the highest Wisconsin quality.
Ginseng is typically used in tea, taken in capsule form, ground into a powder for convenience of adding into one's favorite dishes, or sliced for steeping or cooking. Some manufacturers have even made healthy energy drinks with American ginseng or used the extract in a variety of health products. The possibilities are endless!
Join me to try Wisconsin grown ginseng for yourself and learn more at the Farm Wisconsin Discovery Center on Saturday, February 13. Sessions will be held at 10 a.m., 11 a.m., 12 pm, and 1 p.m. Plan to come early to reserve your seat – only 10 participants will be allowed in for each session. Pre-registration can be done online: https://fb.me/e/Mh0VIavU
I am so excited to share the wonders of Wisconsin-grown ginseng and its importance to the Chinese New Year!
Learn more about the Alice in Dairyland program at www.AliceInDairyland.com/.