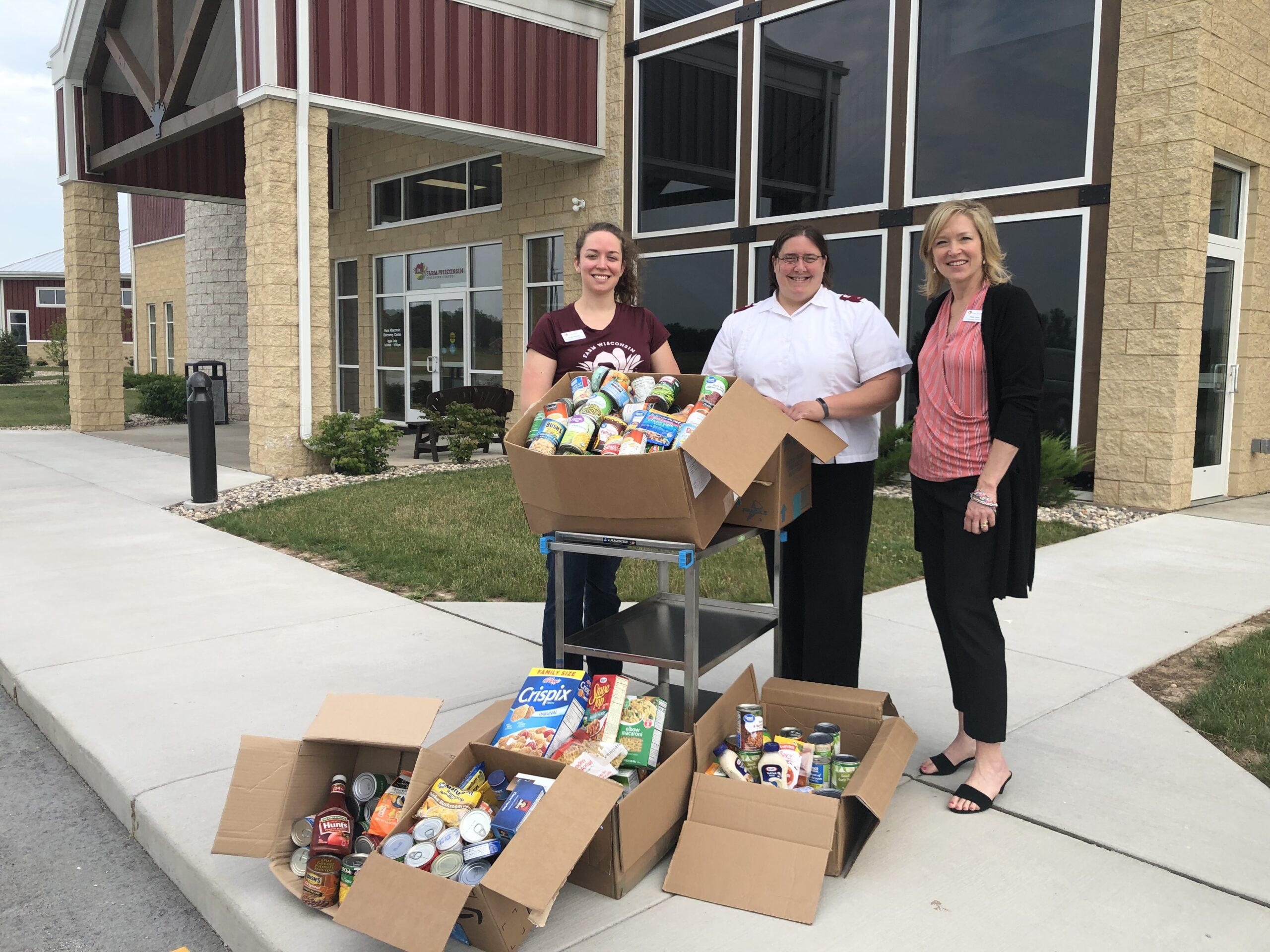 Manitowoc, WI (November 23, 2019): Farm Wisconsin Discovery Center (FWDC) is running a holiday food drive with a half price admission incentive.  Guests are invited to bring in one or more non-perishable foods items, and for each item, guests will receive one half price Farm Wisconsin admission for that day. The drive runs from November 22 through December 22, 2019.
"What better way to express our gratitude for our bountiful Wisconsin food sources than to host a holiday food drive," says Patty Lehn, Executive Director at Farm Wisconsin. "We are happy to reward that generosity with an admission discount to, in turn, learn more about how that food is produced."
Farm Wisconsin's holiday food drive supports The Salvation Army of Manitowoc County's food pantry. There is no limit on the amount of items visitors may donate. One item equals half price admission for seniors, adults and children. Items currently on The Salvation Army's most wanted list include pasta, sauce, peanut butter, cereal, flour and sugar.
The Farm Wisconsin Discovery Center is open daily from 9:00 a.m. to 5:00 p.m., seven days per week. The Wisconsin Café located inside the center is open for breakfast and lunch 8:00 a.m. to 2:30 p.m. Access to the Wisconsin Café and the center's country store are free and independent of admission to the discovery center. The center will be closed for Thanksgiving, November 28.
Farm Wisconsin Discovery Center:
The Farm Wisconsin Discovery Center is a state-of-the-art, interactive agricultural education center located in Manitowoc County. Farm Wisconsin connects visitors' curiosity to the wonder of Wisconsin farming and provides guests with a better understanding of their food sources and their importance. The center features 10,000 square feet of hands-on learning opportunities, a birthing barn where visitors may watch calves being born daily, and an opportunity to tour a local farm to learn about Wisconsin's rich farm history.
To learn more about Farm Wisconsin visit, Farmwisconsin.org.
# # #