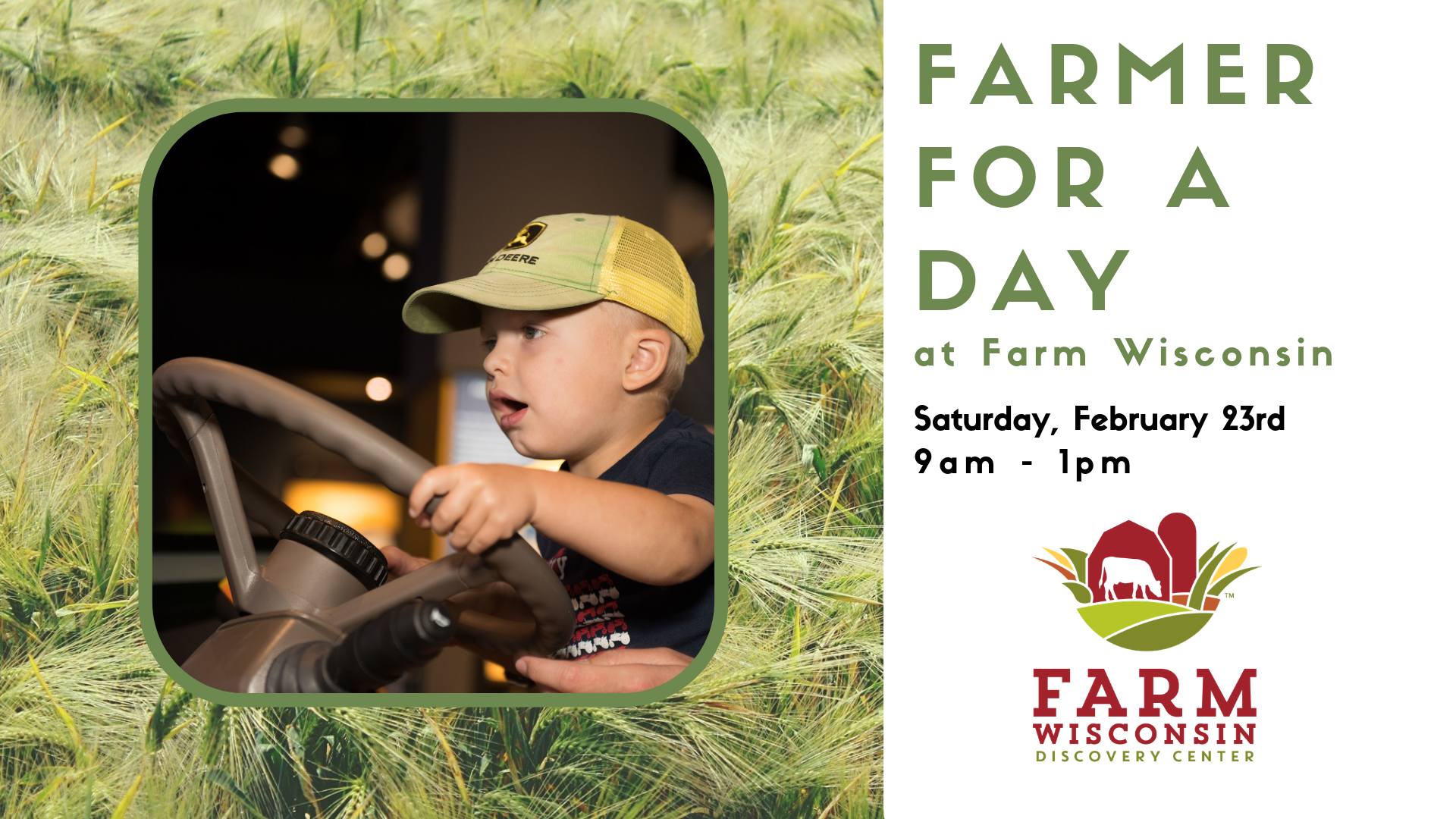 The Farm Wisconsin Discovery Center will be hosting 'Farmer for a Day at Farm Wisconsin' on Saturday, February 23, from 9:00am to 1:00pm.  All ages are welcome to attend.
Check off a list of "chores" to do on a farm as guests learn and explore the agricultural industry. A variety of activities will focus on things that need to be completed on the farm.
These interactive activities include:
Farm tour scavenger hunt
Color a "badge" that says "I am a Farmer Today"
"Pick" and "wash" vegetables
"Grow" corn and watch it "hop"
Compare the weights of different grains
Make a farm animal puppet
Farm Animal Bowling
Shear a "sheep"
"Milk" a cow
Collect eggs from the chicken coop
The Wisconsin Spudmobile will also be making an appearance from 10:00am to 1:00pm.
This event is included in the daily admission fee and Farm Wisconsin Memberships.
Contact Melissa Bender at 920-726-6003 or melissa@farmwisconsin.org for more information or follow our Facebook page for updated information.
Farm Wisconsin Discovery Center:
The Farm Wisconsin Discovery Center is a state-of-the-art, interactive agricultural education center located in Manitowoc County. It provides visitors with the opportunity to connect to the agriculture industry by better understanding where their food comes from, and why agriculture is so important to them. The center features 10,000 square feet of hands-on learning opportunities, a birthing barn where visitors may watch calves being born daily, and an opportunity to tour a local farm to learn about Wisconsin's rich farm history. Open daily from 9:00am to 5:00pm seven days a week.
To learn more about Farm Wisconsin, please visit: www.FarmWisconsin.org
###