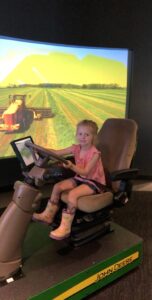 MANITOWOC, WI (July 22, 2020): State and county fair cancellations might have dampened the plans of many active 4-H youth this summer, but Farm Wisconsin Discovery Center hopes to provide a silver lining. The center welcomes all active youth 4-H members with free admission August 7 through Labor Day, and also invites any interested exhibitors to display their projects at the center.
"We know how devastating the fair cancellations have been, and understand the reasons for them," says Executive Director Patty Lehn. "We just wanted to show our support and provide an outlet for 4-H youth and their projects."
Youth interested in displaying their projects During the COVID-19 pandemic may connect with Farm Wisconsin through FarmWisconsin.org/4h/ to register.
The center is open to the public Friday, Saturday, and Sundays from 9am to 5pm. Up to three 4-H youth admissions will be free with each accompanying paid adult admission.
Farm Wisconsin's 10,000 square feet of exhibit space will be open, as will the popular birthing barn, where visitors have the opportunity to watch the miracle of calf birth. The center will display projects throughout the building and conference center, depending on the needs. Additional activities are being planned on select dates, and are detailed at FarmWisconsin.org/events.
All Farm Wisconsin spaces and activities are spread out, allowing for social distancing. Special events and exhibits use outdoor and conference center space to allow for maximum spacing. High-touch exhibits, railings and other surfaces are disinfected regularly throughout the day.
About Farm Wisconsin Discovery Center
The Farm Wisconsin Discovery Center is a state-of-the-art, interactive agricultural education center located in Manitowoc County. Farm Wisconsin connects visitors' curiosity to the wonder of Wisconsin farming and provides guests with a better understanding of their food sources and their importance. The center features 10,000 square feet of hands-on learning opportunities, a birthing barn where visitors may watch calves being born daily, and an opportunity to tour a local farm to learn about Wisconsin's rich farm history. The center was named to Time for Kids' World's 50 Coolest Places of 2019.
For more information, visit FarmWisconsin.org.
###