Book Signing : Corey Geiger
May 15 @ 9:00 am

-

1:00 pm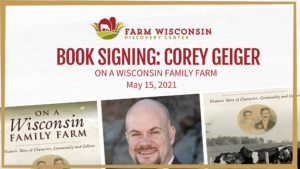 Book Signing: Corey Geiger
Author Corey Geiger will be signing copies of his new book, "On a Wisconsin Family Farm,"
Saturday May 15th – 9am – 1pm at Farm Wisconsin Discovery Center.
"On a Wisconsin Family Farm flings the barn doors wide open to a cast of characters who have long passed this world. A maternal maverick, Anna Satorie, went against cultural norms and became the sole owner of her family's homestead in 1905. The next year, Anna married John Burich and the couple went about building a thrifty family farm. Pioneer life was fraught with trials and tribulations as polio and tuberculosis claimed loved ones and the fabricated death of a bootlegging brother turned gangsters away from the farm. Neighbors join the narrative as the immigrant class aided one another to construct farmsteads and develop a support network that included unsanctioned bank loans, daring dynamite work, hard labor to raise barns and subsequent parties met by the rooster's early-dawn crow. Corey Geiger, international agricultural journalist, pairs his rural roots and lively storytelling talents to capture six generations of local tales."
For more information on the book: https://www.coreygeiger.com
Complimentary refreshments sponsored by Greendale Dairy.
Half-Priced Admission to Farm Wisconsin Discovery Center with the purchase of book. Admission can be purchased day of the book signing.
Don't forget to shop in our Farm House Store for an array for Wisconsin goodies and unique items! Plus you can visit our Ice Cream Acres – serving 16 different flavors of cedar crest ice creams.
____________________________________
The Farm Wisconsin Discovery Center is a state-of-the-art, interactive agricultural education center located in Manitowoc County. Farm Wisconsin connects visitors' curiosity to the wonder of Wisconsin farming and provides guests with a better understanding of their food sources and their importance. The center features 10,000 square feet of hands-on learning opportunities, a birthing barn where visitors may watch calves being born daily, featuring the Farm House store and Ice Cream Acres serving 16 flavors of Cedar Crest Ice Cream. Learn more about Farm Wisconsin Discovery Center here.