Beef : Cooking Class
May 8, 2021 @ 11:00 am

-

1:00 pm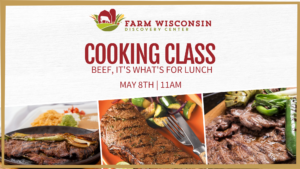 Beef, It's What's for Lunch Cooking Class
Join Dietitian Sara Agena as you learn how to pack loads of flavor into your next beef entrée – mouth-watering samples included!
Beef, It's what's for lunch cook class is Saturday, May 8th starting at 11am.
Get out of your own kitchen and join us in cooking up some fantastic recipes!
In this cooking class we will be making Mediterranean Beef Flank Steak Pitas.
During this cooking class you will learn:
how make this mouth-watering recipe
how to shop for beef
the different cuts of beef
beef cooking basics
And then SAMPLE:
this mouth-watering recipe!
Visitors are invited to extend their experience after with a visit to our Farm Wisconsin Discovery Center and Land O' Lakes Birthing Barn where they can experience the wonders of Wisconsin agriculture.
Class attendants will receive a $5 admissions coupon to be used the same day. This will be handed out during cooking class.
Don't forget to shop in our Farm House Store for an array for Wisconsin goodies and unique items! Plus you can visit our Ice Cream Acres – serving 16 different flavors of cedar crest ice creams.
____________________________________
The Farm Wisconsin Discovery Center is a state-of-the-art, interactive agricultural education center located in Manitowoc County. Farm Wisconsin connects visitors' curiosity to the wonder of Wisconsin farming and provides guests with a better understanding of their food sources and their importance. The center features 10,000 square feet of hands-on learning opportunities, a birthing barn where visitors may watch calves being born daily, featuring the Farm House store and Ice Cream Acres serving 16 flavors of Cedar Crest Ice Cream. Learn more about Farm Wisconsin Discovery Center here.