Private Group Tours
Learn + Grow
Farm Wisconsin Discovery Center Private Group Tours!
Farm Wisconsin is now offering the opportunity to connect to the miracle of farming by private group tours. We welcome tour groups of all ages that are eager to explore the wonders of agriculture from employee outings, or family reunions.
During your time at the center, your group will gain a deeper understanding of Wisconsin agricultural products, food's journey from farm to table, technological advancements and sustainable farming. Customized dining options are available from the Wisconsin Café.
Your day exploring Wisconsin's agriculture is sure to be educational and enlightening!
Included in the experience:
10,000 square feet of interactive exhibits
Complete a scavenger hunt to dive deeper into the exhibits
Land O'Lakes Birthing Barn

Meet with our Birthing Barn Team for Dairy 101
Potentially see a live birth

Virtual Farm Tour
Fill out a Group Tour Registration Form or view our profile sheet for more information.
25-person minimum group | Must pay in advance.
We have free parking for motor coaches or buses.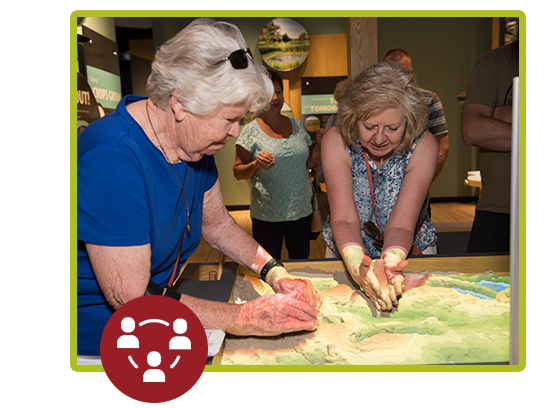 Rates:
Adults - $16 per person
Seniors - $12 per person
Youth (4-18) - $8 per person
Available Days:
Wednesday + Thursday

9am-11am
11:30am-1:30pm
2pm-4pm